40 Feet Skeletal Semi Trailer Features:
1. Three-dimensional computer-aided design,rational construction; Beams use low-alloy steel automobile welded by automatic submerged arc welding machine. Turn lock of beam frame uses cassette beam structure, with high
strength, rigidity , good toughness.
2. Light weight frame with skeleton structure;
3. Using of safe and reliable dual-circuit air brake system, equipped domestic and overseas various types of ABS
anti-lock braking system, to ensure the safety and reliability during operation of the vehicle;
4. 40 Feet Skeletal Semi Trailer designed to meet the individual needs of customers, according to the requirements, air-suspension and super single tyre is optional for these trailers.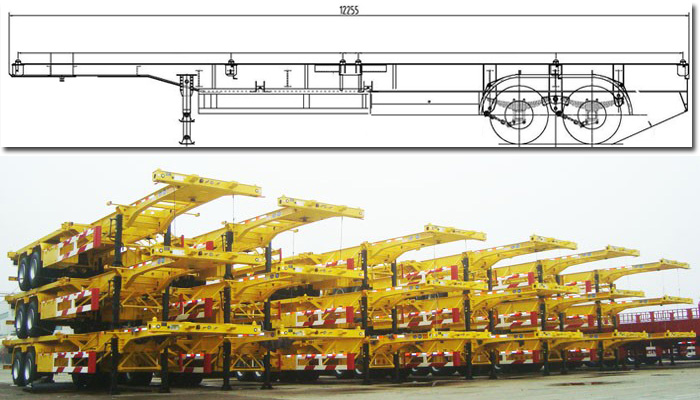 Tendem Axle 40 Feet Skeletal Semi Trailer Dimension:
Tare Weight:4500 kg
Payload:40000 kg
Overall Weight:44500 kg
Overall Length:12400 mm
Overall Width:2480 mm
Overall Height:1410 mm
Wheel track:1840 mm
Wheelbase:7950mm+1310mm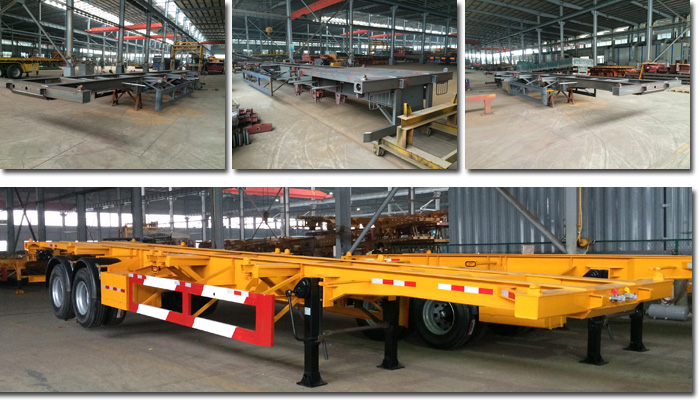 Container 40 Feet Skeletal Semi Trailer Specification:
1. Main Frame: Heavy duty and extra durability designed; Opting for high tensile steel Q345B, welded by
automatic Submerged-Arc processes
2. Floor: Steel sheet 3mm thickness
3. Axle: Two units 13T axle
4. Suspension: 2-axle mechanical suspension, American design
5. Leaf Spring: Four sets of reliable local brand, 8-piece leaf spring, 16*90mm
6. King Pin: one unit of 2" bolt-in kingpin
7. Landing Gear: Two-speed, manual operation, heavy duty WONDEE brand landing gear
8. Wheel Rim: 8 units 8.25-22.5 rim
9. Tire: 8 units 11R22.5 tire
10. Twist Lock: Twelve nos. four nos are fasten mode, eight nos are up-down mode, of ISO twist lock for
2x20ft, 1x40ft container, central locks can be laid down.
11. Spare Wheel Carrier: One set of spare wheel carrier including a riser.
12. Pneumatic Braking System: Two units of WABCO RE 4 relay valve; four units of T30/30 spring brake
chamber; two units of reliable local brand 45L air tank; two units of reliable local brand standard coppery
air-connector.
13. Electrical System: One unit of JAEGER POWAY, 24V 7-pin ISO 1185 socket; two sets of reliable, local
brand standard rear light, turn light, rear reflector, side light, side reflector etc. One set of DAFA
(brand) 6-core standard Cable.
14. Painting: Sand blasting before painting; one coats of primer, anti-corrosion; two coat of finish painting; colour
advised by client
15. Accessory: One box with a set of standard trailer tool